About Programmes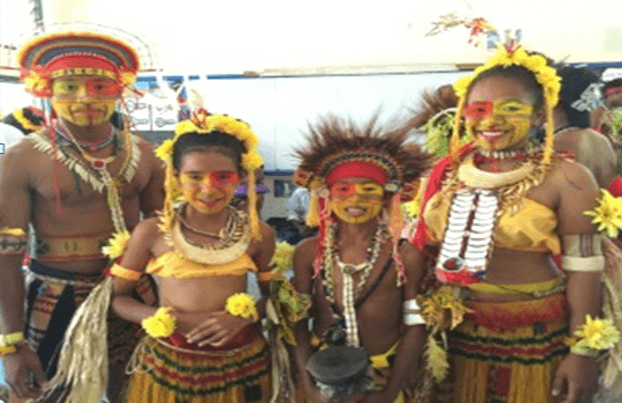 We believe that education is the single biggest opportunity you can give a child.

Sixty per cent of our annual budget is invested in classroom projects. In our quest to improve education infrastructure to create an environment conducive to learning, Digicel Foundation has built to date 220 Primary School and 242 Elementary School classroom projects providing 13,640 children in rural, remote communities' access to education.

Each school education infrastructure project consists of two classrooms with desks, an office space in between, a water tank, two Ventilation Improved Piping (VIP) toilets and solar lighting. Primary Schools include two bucket showers.

Thanks to our partnership with Atlas Steel, the Foundation is able to produce steel building materials at a good price. All education infrastructure are made from high-quality, low-maintenance, pre-fabricated steel and we are proud of our ability to deliver 90% of our projects on time and to budget.
We are committed to providing access to basic health services in rural and remote communities.

We do this through the provision of Mobile Health Clinics (MHCs) and more recently our Rural Health Aid Posts (RHAPs). To date Digicel PNG Foundation has funded and purchased 21 MHCs and 3 RHAPs which have been delivered to various church partners and government run health facilities.

The impact the MHCs has had on remote Papua New Guinea has been phenomenal with over 72,000 outreach programs conducted and over 500,000 people receiving medical aid and treatment. Through these health outreach programs, health services are brought right to the doorstep of people who would otherwise have to walk kilometres and days to the nearest aid post or health centre. The MHCs provide immunization, HIV/AIDS testing, treatment and counselling, TB and Malaria treatment and prenatal and postnatal care free of charge.

Our rural delivery would not be possible if not for the support of our partnership with Ela Motors who sponsor the on-going vehicle maintenance and CIC for discounted insurance they provide.
Where Digicel as a business grows, so too must its communities.

Digicel PNG Foundation works with communities to develop and build sustainable and meaningful projects and programs. The core of our work is encouraging positive community ownership to improve the lives of people in Papua New Guinea.

Through our Life & Business Skills Program, we address gender-based violence in a holistic manner by putting participants through a two week gender sensitization and basic business skills course. Many of the graduates walk away from the course with a renewed sense of empowerment to make their community a better, safer place and a passion to grow their income generating activities to sustain their livelihoods. Over 15,000 people have graduated from this program with a basic business skills certificate.

Our Isi Learning Teacher Training Program links the passion of 221 community based teachers with a sound knowledgeable base to effectively deliver early childhood learning and development. This program has had an overwhelming impact on the literacy and numeracy ability of pre-school aged children.

Digicel PNG Foundation plans to continue the funding of community building programs aiming to support communities as they become more self-reliant in the future. No two communities are the same so we are constantly adapting, with a considered approach, respectful of working in different cultural contexts which are often deeply rooted in tradition. Our appreciation of this, attributes to our success.
Men of Honour Campaign

As a Foundation, Digicel PNG Foundation aims to break the cycle of violence through focusing on positive behaviour for affirmative action. Papua New Guinean men have been vilified for decades but there are honourable men who are alleviating suffering and preserving human dignity in the roles they play.

Through the Digicel Foundation Men of Honour Awards, communities are encouraged to identify role models and positive behaviour; to look within their communities to nominate ordinary men who are doing extraordinary things. In honouring the good men of Papua New Guinea, Digicel PNG Foundation is using positive behaviour to create the world we it wants to see.

The Men of Honour Awards are not based on achievements but rather on character and the invitation is out to all Papua New Guineans to take this journey to begin the pendulum shift.
We believe in creating an inclusive and equal society that gives opportunities to all people, including those living with disabilities and special needs.

Disability inclusion is about society changing to accommodate difference and to combat discrimination related to people with disabilities. It requires that disability barriers are removed and personal needs relating to impairment are met, thus making possible the full involvement of people with disabilities and enabling them to benefit from services on an equal basis with others.

Digicel PNG Foundation's focus of providing services for people with special needs is mainly done through the support of two key programs – the Community Based Rehabilitation Program and the support of vulnerable women and children at risk through the We Care Foundation.

Lack of awareness, education, medical help and appropriate services makes life for people with disabilities and special needs difficult. The efforts of Digicel PNG Foundation in these areas is promoting collaboration with community leaders, people with disabilities, their families and other concerned citizens to raise awareness and change mindsets about disability and special needs in rural, remote and socially marginalized communities of Papua New Guinea.